1881 Fire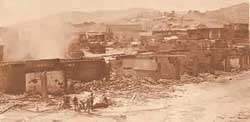 The Golden Eagle Brewery was not hit as hard as others in Tombstone when the June 22, 1881 fire swept through town, leaving in its wake a mass of destroyed buildings. During this fire, a large bucket brigade helped save this building from total destruction. Fire was soon to be the demise of this once two story building when on May 26, 1882 is was totally destroyed as flames swept through and took with it all that was once the Golden Eagle Brewery.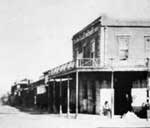 Swift action saw to it that the saloon was quickly rebuilt and the name was changed to the Crystal Palace Saloon. Imagine as you sit here and gaze around this fine establishment that in the center of the room was a goldfish pond "which spouts forth streams of pure water" as stated in the Tombstone Epitaph of July 23, 1882.
The Crystal Palace Saloon soon became known as a fine dining establishment that not only served oysters and other delicacies in the lunchroom of the Palace, but also boasted of carrying the choicest brands of wines, liquors, and cigars. Gambling and live music were also part of the action every night of the week.