Entrees
Entree served with your choice of a fluffy baked potato, homemade crafted mashed potatoes, or our grilled cowboy potatoes, dinner roll, choice of vegetable of the day, or ranch beans.
Add a zesty dinner salad and choice of dressing +$2.49
8 oz. Top Sirloin Steak

A Certified Angus Beef center cut top sirloin steak boasting tremendous flavor, exceptional leanness and fine marbling. Truly a cut above the rest. $17.99

12 oz. Rib Eye Steak

The finest marbled Certified Angus Beef steak you will find anywhere. Charbroiled to perfection. $20.99

Bar-B-Q Pork Ribs

Our signature St. Louis style pork ribs, slow cooked in our own mouthwatering marinade and basted on the grill with our finger-licking BBQ sauce.
Full rack $24.99
Half rack $16.99

Steak & Rib Combo

A quarter rack of our signature BBQ pork ribs with an 8 oz. Sirloin $21.99
or a 12 oz. Ribeye $26.99

Atlantic Salmon

A delightful and tender Salmon filet with your choice of Light Garlic Pepper Rub or Cajun Seasoning. Grilled to perfection 14.99

Fantail Shrimp

Delicious large fantailed shrimp and our own savory cocktail sauce. $15.99

Boneless Chicken Breast

A perfectly grilled hormone free chicken breast topped with your choice of BBQ sauce, Lemon Pepper or Garlic Herb Seasoning. $10.99
Add Mozzarella or Cheddar Cheese +$.99
Certified Angus Beef® brand Natural is the finest natural beef available.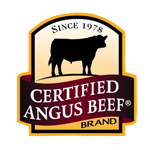 Angus cattle are carefully selected from reputable ranches and family farms in America's heartland. These producers are dedicated to bringing the very best, natural beef to your family's table. These ranchers commit to a never, ever policy, raising cattle without antibiotics or added hormones. And cattle are fed a strictly vegetarian diet.
The Crystal Palace Saloon and Restaurant is proud to prepare and serve the finest beef available for you. We hope you enjoy the beef and all foods prepared at the Crystal.