Prohibition
Prohibition saw another incarnation of the Crystal Palace Saloon and gambling laws made what was once a normal part of life in Tombstone soon a piece of the past. It is said that a businessman purchased the roulette wheels, gambling tables, and later the bar, backbar, and fixtures for his saloon across the border in Naco, Mexico.
One visible sign of change came in 1915 when the Crystal Palace Saloon was turned into a movie theater name the Crystal Theater. The building was suited perfectly for this as it was renovated with a stage and rows of box seats on each side.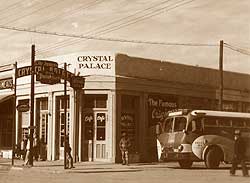 The Crystal Palace has seen many owners and many incarnations. This includes being a ticket office for the Greyhound Bus Station that housed a curio shop and lunch counter. Although the original bar may be lost to time somewhere, a replica was built in 1964 during a major reconstruction effort put on by the Historic Tombstone Adventures (HTA) that included the addition of the well-known wallpaper, new flooring and fine new furnishings.